PARTNERING WITH YOU | PORTFOLIO SOLUTIONS
A platform uniquely designed to solve for you
Approach
Services
Insights
Global solutions aligned to your purpose
Anchored by a global investment manager, NB Private Wealth offers you a full range of innovative institutional-quality investments, spanning across public and private markets, and customized to fit your goals and objectives. Our unique structure as an independent, employee-owned firm defines true partnership at its core, creating a unique alignment with you and your purpose.
Broad Scope, Singular Focus
Equities
Alpha generation is the priority for our specialist investment teams, which leverage deep firm resources and capabilities, including global research, data science and Environment Social and Governance (ESG) capabilities
60+ actively managed strategies
NB Portfolio Managers (PMs) average 25+ years of industry experience
Deep fundamental research, accessing insights from public and private markets
Access to a curated focus list of third-party complementary managed strategies
LEARN MORE
Fixed Income
We believe a value-oriented approach based on process-led investing, a commitment to research and an integrated global approach can capitalize on these market inefficiencies.
Deep focus on generating tax efficient yield in alignment with clients
Breadth of strategies to provide diversification and enhance return potential
Build customized municipal bond portfolios by geography and duration
Access to a curated focus list of third-party complementary managed strategies
LEARN MORE
Alternatives - Private Markets
Our fully integrated approach to private markets investing provides robust deal flow and enhanced due diligence and execution capabilities, resulting in a long and successful investment history.
Integrated, selective approach to investing in private markets, focused on quality
Industry leader with innovative products and structures
Integrated global platform across primary, secondary, direct investments, real estate, private credit, and liquid and specialty alternatives
LEARN MORE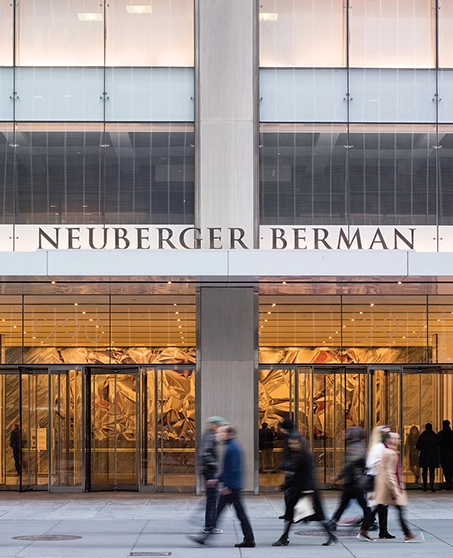 Asset Allocation Committee
Neuberger Berman's Asset Allocation Committee is comprised of the firm's Chief Investment Officers and senior investment leaders across the asset classes. The team meets every quarter to poll its members on their outlook for the next 12 months on each of the asset classes and, through debate and discussion, to refine our market outlook. The panel covers the gamut of investments and markets, bringing together diverse industry knowledge, with an average of 28 years of experience.
READ THE MOST RECENT OUTLOOK
This material is provided for informational purposes only and nothing herein constitutes investment, legal, accounting or tax advice, or a recommendation to buy, sell or hold a security. This material is general in nature and is not directed to any category of investors and should not be regarded as individualized, a recommendation, investment advice or a suggestion to engage in or refrain from any investment-related course of action. Neuberger Berman is not providing this material in a fiduciary capacity and has a financial interest in the sale of its products and services. Neuberger Berman, as well as its employees, does not provide tax or legal advice. You should consult your accountant, tax adviser and/or attorney for advice concerning your particular circumstances. Information is obtained from sources deemed reliable, but there is no representation or warranty as to its accuracy, completeness or reliability. All information is current as of the date of this material and is subject to change without notice. Any views or opinions expressed may not reflect those of the firm as a whole. Neuberger Berman products and services may not be available in all jurisdictions or to all client types. Investing entails risks, including possible loss of principal. Investments in hedge funds and private equity are speculative and involve a higher degree of risk than more traditional investments. Investments in hedge funds and private equity are intended for sophisticated investors only. Indexes are unmanaged and are not available for direct investment. Past performance is no guarantee of future results. Any discussion of environmental, social and governance (ESG) factor and ratings are for informational purposes only and should not be relied upon as a basis for making an investment decision. ESG factors are one of many factors that may be considered when making investment decisions.
Neuberger Berman Investment Advisers LLC ("NBIA") utilizes the Neuberger Berman investment platform of equity, fixed income and alternative products and strategies as its primary investment options.  Non-Neuberger Berman products and strategies are also available as a complement to Neuberger Berman offerings.  NBIA's preference for Neuberger Berman products and strategies may result in incremental benefits to NBIA, its affiliates and their respective employees.
Neuberger Berman Investment Advisers LLC is a registered investment adviser. The "Neuberger Berman" name and logo are registered service marks of Neuberger Berman Group LLC.